K-pop Industry: From Seoul to World!
K-pop is a short form of Korean pop music. K-pop includes various genres of music like R&B, pop, hip-hop, electro-pop, rock, jazz, EDM, classical, and many more.
Korean pop music has become incredibly popular and has taken the world by storm. This industry has a massive fan following that crosses beyond national boundaries and cultural barriers. Likewise, with its ever-growing popularity, there are various fascinating statistics surrounding this genre, which have captured the attention of music enthusiasts.
This blog post delves into some of the most intriguing K-Pop's history and present. This post also highlights to the biggest K-pop act or groups that have left remarkable stamps not just on the Korean music industry but also in the global music industry.
Statistics Behind Their Music
K-pop short for Korean pop is the name for South Korea's well-known music. This music has recently experienced a significant rise in popularity and worldwide success. K-pop is an entertainment genre that includes dancing, fashion, and a way of life in addition to music. South Korean popular culture is not the same without K-pop, which has grown to be a global phenomenon.
According to the KOCCA report of 2022, the Korean music industry expanded by 31.7% annually. Its music profit increased by 26.2%. This shows how big is K-pop and successful too. It is impossible to overstate the value of the music business and its growth potential. The huge financial success of HYBE, the firm behind the creation of megastar BTS is evidence of K-pop success in the music industry. The sales income of HYBE Corporation has surged by 3,466% since 2016 when BTS started to acquire fame. It has grown into one of the most prosperous entertainment companies in South Korea. This demonstrates the influence of K-Pop on the South Korean economy and the genre's ability to bring in substantial sums of money.
Talking about the physical album sales and digital platform streaming. Both are topped by the K-pop industry currently. With 12.4% of all album sales in 2022, BTS led all K-Pop artists in South Korea, ahead of Stray Kids, SEVENTEEN, and NCT DREAM. With 34 million album sales as of 2023, BTS is still the most successful act, followed by NCT (24 million) and EXO (14 million). This demonstrates the major K-Pop groups' current success and how they are doing in terms of album sales. It also demonstrates the possibility of future success for other groups in achieving comparable levels.
History of K-pop
K-pop history goes back to the early 1990s. After gaining its independence South Korea was struggling in the economy. At the same time, Japanese Kawaii culture and its music had a huge influence on the South Korean people. This influence helped to generate today's colorful K-pop industry. In 1992, a group called Seo Taiji and Boys gave a hip-hop performance that served as the beginning of K-pop. Only two broadcast networks dominated the music that the general people listened to in South Korea before the country's democracy in 1987. However, slowly the music exposed to South Korean was increasing as they become familiar with abroad music, particularly modern American music. Music groups had to be introduced to South Korean viewers through talent shows. As television was the country's centralized form of media.
Seo Taiji and Boys were pioneers who made the grounds for today's K-pop acts. They insisted on opening their songs and making their music outside of the artificial network environment. Likewise, they mostly sang about teen sorrow and peer pressure. They altered the musical and performance scene in South Korea, opening the door for other artists to push the envelope even further.
Between 1995 and 1998, three challenging music studios namely, SM Entertainment, JYP Entertainment, and YG Entertainment emerged. These companies started consciously fostering the idol groups that would later come to be recognized. In 1996, SM founder Lee Soo-man formed a group called H.O.T that had characteristics similar to those of contemporary idol groups. This marked the debut of the first idol group in South Korea. Multilingual talents were avidly supported by the studios, and K-pop developed its brand centered on flash, flair, and quality.
Top K-pop Groups Currently
Amidst the competitiveness here are the top groups that have left their mark not just on the South Korean music industry but also in the international market as well.
1. BTS: There is undoubtedly no talking about K-pop without BTS. The Grammy Nominated Act in three categories is from HYBE company. The group was originally formed in 2013 and has an impressive record of topping Korean music charts as well as prestigious international charts like Billboard. Likewise, reports indicate that they have sold 38 million albums domestically as of 2022. Also, they were the first K-pop act to perform at American Music Awards, Grammys, and other various American shows.
2. BLACKPINK: Blackpink is the top girl group not just in South Korea, but also in the world. They were the first Korean girl group to perform at 2019's Coachella. Also, they have billions of views on their music video on YouTube. Similarly, their second album Born Pink charted at number one position on Billboard Top 200 in 2021.
3. EXO: This K-pop act gained popularity worldwide after earning the opportunity to perform at the 2018 Pyeongchang Winter Olympics. EXO is known for its ability to perform and compose songs in a variety of languages, including Korean, Japanese, Mandarin, and Chinese. Furthermore, the group is broken up into two sub-groups: EXO-M for Mandarin-speaking singers and EXO-K for Korean-speaking singers.
4. TWICE: Another girl group with massive album sales and sold-out tours, TWICE is the biggest girl group in Korea. Their cute and lovely concepts have earned them the nickname 'sweethearts of K-pop'. They are very popular in South Korea, and Japan because among the nine members, three members are Japanese nationality.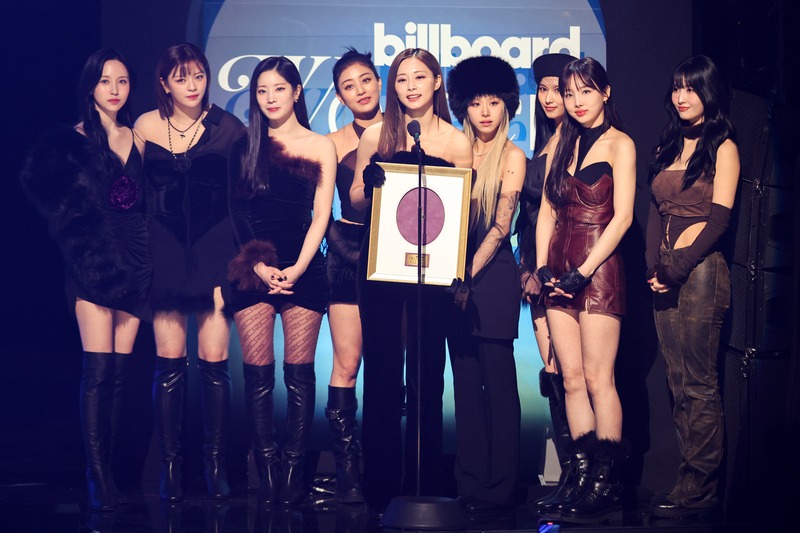 These are the most popular and most mentioned K-pop act in the world right now.
Also read Señorita: Shawn Mendes and Camila Cabello Back Together?