Project Manager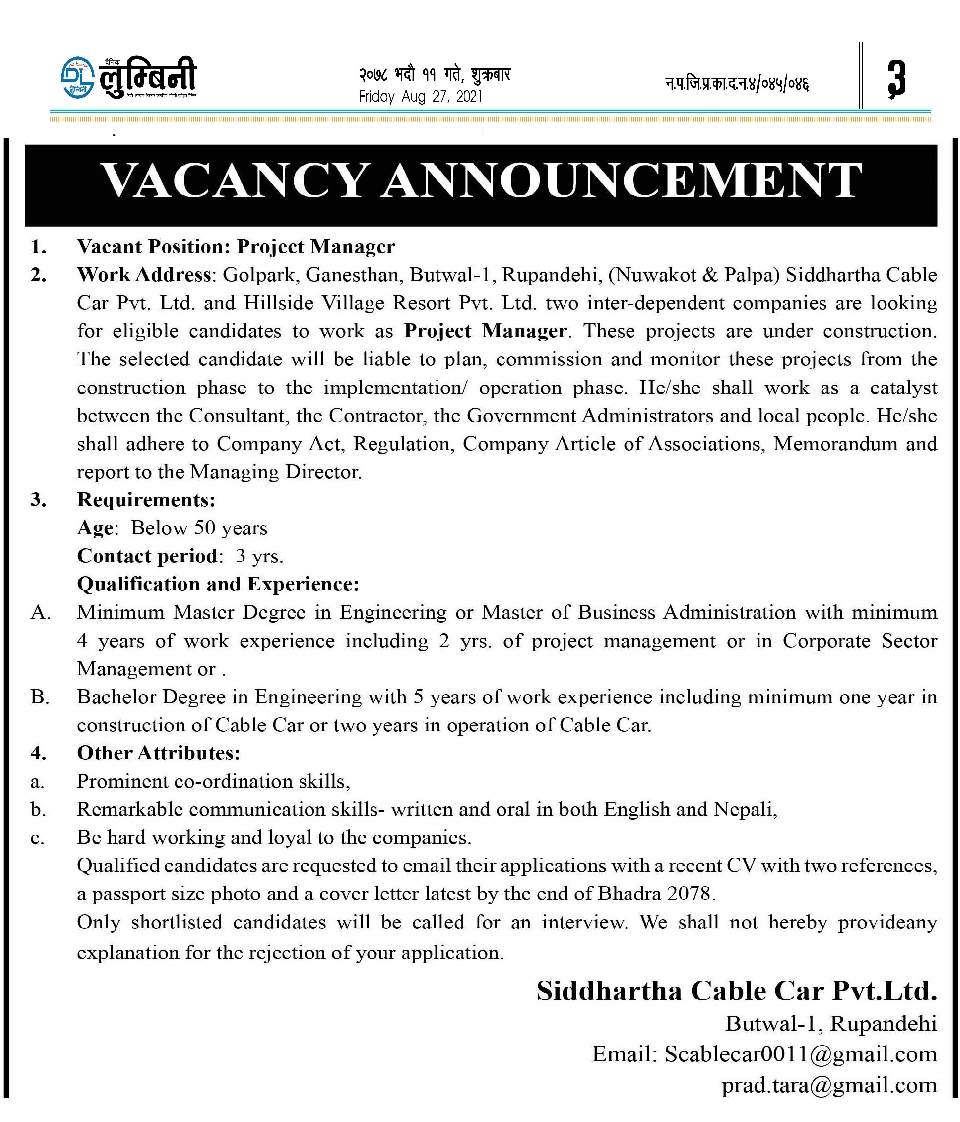 Apply before 16 Sep, 2021
Siddhartha Cable Car Pvt.Ltd
DETAILED JOB DESCRIPTION / REQUIREMENTS:
VACANCY ANNOUNCEMENT
1. Vacant Position: Project Manager
2. Work Address: GoI park, Ganesthan, Butwal-1, Rupandehi, (Nuwakot & Palpa)
Siddhartha Cable Car Pvt. Ltd. and Hillside Village Resort Pvt. Ltd. two inter-dependent companies are looking for eligible candidates to work as Project Manager. These projects are under construction. The selected candidate will be liable to plan, commission and monitor these projects from the construction phase to the implementation/operation phase. He/she shall work as a catalyst between the Consultant, the Contractor, the Government Administrators, and local people. He/she shall adhere to Company Act, Regulation, Company Article of Associations, Memorandum and report to the Managing Director.
3. Requirements:
Age: Below 50 years
Contract period: 3 years.
Salary and benefits: Negotiable (As per company's policies).
Qualification and Experience:
Minimum Master Degree in Engineering or Master of Business Administration with minimum 4 years of work experience including 2 years of project management or in Corporate Sector Management or.
Bachelor's Degree in Engineering with 5 years of work experience including minimum of one year in the construction of Cable Car or two years in operation of Cable Car.
4. OtherAttributes:
Prominent co-ordination skills,
Remarkable communication skills-written and oral in both English and Nepali,
Be hard working and loyal to the companies.
Qualified candidates are requested to email their applications with a recent CV with two references, a passport size photo and a cover letter latest by the end of Bhadra 2078.
Only shortlisted candidates will be called for an interview. We shall not hereby provide any explanation for the rejection of your application.
Siddhartha Cable Car Pvt. Ltd.
Butwal-1, Rupandehi
Email: Scablecar0011@gmail.com