Rihanna at Super Bowl 2023: All You Need to Know!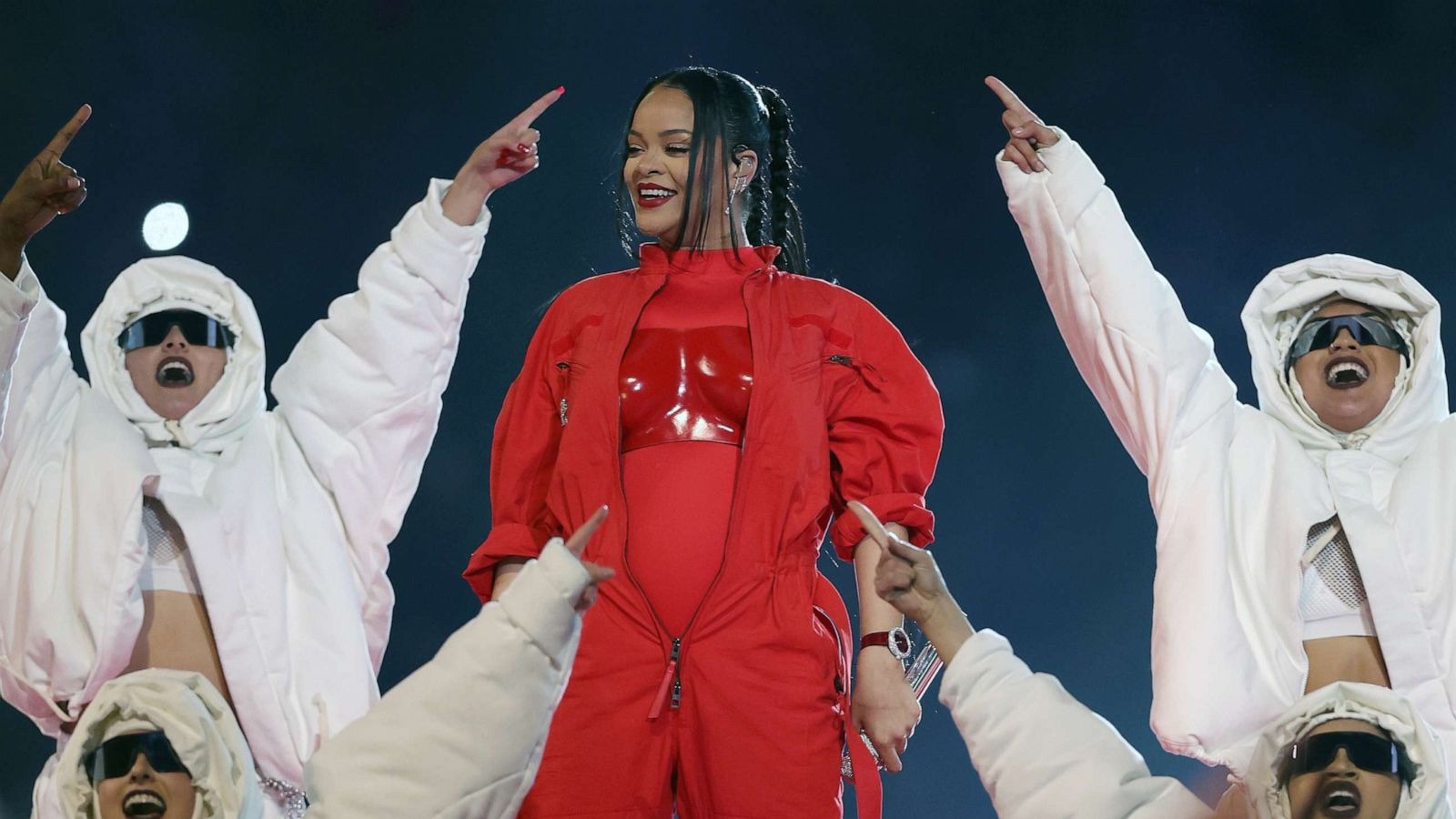 Rihanna is a Grammy-winning singer, songwriter, businesswoman, and actress. Rihanna launched the cosmetic brand Fenty Beauty, a subsidiary of LVMH in 2017.
Music lovers worldwide were excited about Rihanna's upcoming Super Bowl halftime show appearance. On February 12, Rihanna, who has a reputation and talent, took the stage. She provided what was anticipated to be one of the most unforgettable solo performances in the history of the Super Bowl halftime show.
The event was scheduled to take place at State Farm Stadium in Glendale, Arizona. It is the home of the Arizona Cardinals. It featured a matchup between the Philadelphia Eagles and Kansas City Chiefs. They are two of the most well-liked teams in the National Football League. The Super Bowl halftime performance has developed into a stage for some of the biggest names in music to display their ability and engage with a huge audience with millions of fans tuning in from around the world.
The Super Bowl halftime performance has become an important cultural occasion that connects entertainment and sports. It provides a chance for artists to show off their abilities and engage with large audiences. Music lovers from all around the world expected what is sure to be an incredible Super Bowl halftime show with Rihanna ready to give a historic performance.
Rihanna's Performance at Super Bowl 2023
At Super Bowl LVII in Glendale, Arizona, Rihanna made her much-awaited stage comeback following a six-year break from her music career. The multi-talented performer, who was the star of the halftime show. Likewise, she shocked the audience by revealing her second pregnancy while she was on stage. Similarly, the event took place at State Farm Stadium.
Rihanna kicked off the show with her smash song Bitch Better Have My Money. She opened her 13-minute performance while floating above the field on a glass platform. Likewise, talking about her appearance, she was wearing a scarlet jumpsuit with a shiny bandeau that highlighted her growing belly. Furthermore, she continued by singing a few more of her well-known singles, such as Where Have You Been, Only Girl (In the World), We Found Love, Work, and Umbrella. Lastly, with Diamonds, she left the audience astonished.
The high-energy production supported by Apple Music signaled the start of Rihanna's much-awaited return to the music business. However, any ambitions she had for releasing new songs, meanwhile, could be put on hold because of her pregnancy. 2016 saw the release of Rihanna's most recent album, Anti.
Likewise, in May 2022, she gave birth to a son with her rapper boyfriend, A$AP Rocky. Despite the fact that she only has one solo record, Lift Me Up, which was included in the Black Panther: Wakanda Forever album.
Was A$AP at the Super Bowl?
At Super Bowl LVII, Rihanna's much-awaited return to the stage was a historic event for her fans. Likewise, the show was attended by her 9-month-old baby, who was present with her boyfriend, A$AP Rocky. According to a source close to Rihanna, she was exploring solutions like noise-canceling headphones for infants or watching the performance from a skybox or club seats In order to make sure her newborn son was comfortable during the performance.
For Rihanna, performing at the Super Bowl halftime show was a once-in-a-lifetime chance. She wouldn't trade it for anything in the world. Similarly, she made sure her family members were present so they could enjoy the performance together. And she had a stadium full of supporters waiting to see her take the stage again. Rocky was Rihanna's biggest fan, the insider continued, and he stood by the stage's edge to capture her performance and provide encouragement. Rocky was there to calm Rihanna, who was a little anxious about the entire event, and everyone knew she would succeed.
After taking a six-year hiatus from music, Rihanna concentrated on building her lucrative Fenty business, which sells lingerie and cosmetics. She also welcomed her son into this world. Also during her performance at the Superbowl, she announced her second pregnancy. Seems like Rihanna is currently focusing on the family more. However, she has not stopped working as a businesswoman. Rihanna has given her best on her cosmetic beauty along with the lingerie business too.
Given her phenomenal success in the music business and her business efforts. It is obvious that Rihanna is a force to be reckoned with in everything she sets her mind to. She is certain to keep making waves in the entertainment and business realms with a supportive boyfriend like A$AP Rocky and a caring family by her side.
Did Rihanna Boycott Superbowl 2019?
Rihanna made news in 2019 when she ignored the Super Bowl. Following Colin Kaepernick's firing by the NFL for kneeling during the playing of the National Anthem she denied the chance to play at the Super Bowl. She explained that she couldn't be an enabler and because she disagreed with various organizational practices.
However, Rihanna changed her mind and will be singing at the Super Bowl halftime show in 2023, which was a stunning turn of events. She stated in an interview with British Vogue that she respected Black representation and believed that there was still much healing to be done. Likewise, she also referred to the headliners from the year before, who were all Black performers, and how they acted as powerful ambassadors for the urban population worldwide.
Her return to the stage and her performance thrilled the football community. Similarly, it appears that the Super Bowl would not be complete without her. Fellow superstar singer Adele, who previously stated that she was only coming to the Super Bowl to see Rihanna perform, is one of the confirmed attendance.
Overall, many fans were taken aback by Rihanna's choice to take the stage during the Super Bowl halftime performance. This marked a dramatic change from her prior position. But her motivations show that she cares about Black representation and wants to make a difference on a bigger platform.
Also read Blackpink Dominates Coachella 2023 With Style & Stage Presence!